Clothing Care
General Clothing Care Tips and Guidelines
for Helping Your Wardrobe Last
Taking good care of your clothes protects your wardrobe investment as well as keeps you looking great. With correct care, your garments will last for many years to come.
Invest in three key tools:

a lint tape roller,
a clothes brush, and
a steamer.


After each wearing

Empty pockets: Otherwise you may teach them to bulge or sag.
Brush them with a Lint Roller: This removes lint, hair, surface dirt and soil and prevents them from becoming stains later on. You can also use a lint brush, but it's slightly more stressful on the fabric.
Air them: Lay knits flat on bed for an hour or so to dissipate odors it may have absorbed, such as cigarette smoke. Woven garments should be hung from a closet door or shower rod with ample breathing room to allow any wrinkles to relax out.
Fold knits: Knits should never be hung. Fold them and place flat with breathing room, in bureau or wardrobe.


Padded or plastic hangers are gentler than wire ones.

Avoid hanging a jacket, or any heavier garments, by the neck or on a coat rack or hook.

Never store a jacket or any garments in the protective plastic bag. Plastic bags are meant for getting your garments from the drycleaner to your home only, never for storage. Leaving garments in the plastic bags promotes light damage and mildew, and can dry out leather and suede.

Brush your clothes regularly and thoroughly. Napped fabrics, such as flannel, will perk up after a light once-over with a clothes brush, and a shot of steam will remove wrinkles quickly and effectively. Stores often use steamers to freshen clothes after they've been tried on.

Dry rain-soaked or damp garments thoroughly in a cool, well ventilated place before hanging in the closet.

Care for your clothes regularly, and unless you have a spill, you should only have to dry clean them once, at the end of the season — a real benefit since dry cleaning is so expensive!

Exposure to air, heat and light sets stains and can make their removal impossible. Treat any stains immediately to keep them from becoming permanent. Another good reason to get items cleaned before storage.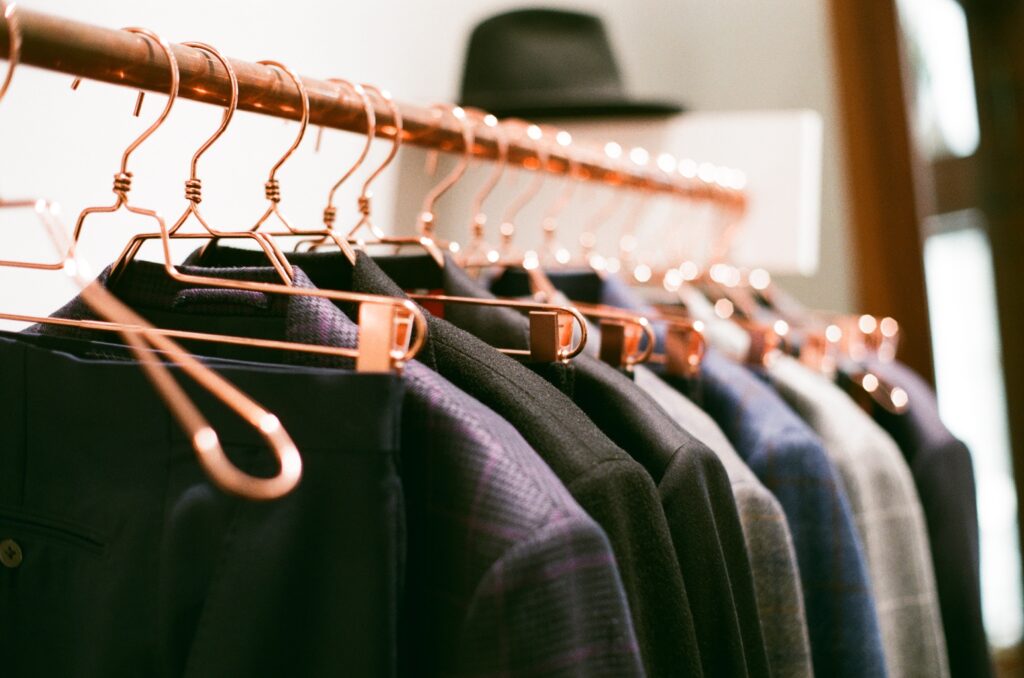 Dont's
Don't jam your clothes together in your closet, either. If you have a big wardrobe, rotate it seasonally, storing your out-of-season clothes in a separate closet (if you're lucky enough to have one) or in special clothing containers (example: old suitcases).

Don't Press a garment if it's stained. The heat of pressing will set the stain and likely make its removal impossible.

Don't Use untested home stain removers or club soda. They can aggravate the condition, or may create permanent damage. Take the garment to your drycleaner.

Don't Use an underarm deodorant without using a shield to protect the garment from the deodorant. Allow deodorant to dry before dressing.

Don't Wear decorative pins – especially on knit garments. If the garment has a snag, use a crochet hook to pull the loop through the underside to avoid further damage.

Don't Wear a garment that you value when using a cold-wave solution or getting a permanent. Cold-wave solutions cause fabric discoloration.

Don't Use nail polish remover to remove nail polish stains. You may damage the garment's dye, or if the fabric is an acetate type, nail polish remover can create a hole.

Don't Hang knitted garments. Hanging pulls them out of shape and causes a sagging hemline. Knits are best stored in a drawer; or folded over the padded rod of a hanger.